MINING INDUSTRY ECONOMIC UPDATES AND PROCUREMENT NETWORKING EVENT
Wednesday 16 June 2021, Muswellbrook RSL Club
Overview
The Muswellbrook Chamber of Commerce and Industry and the Upper Hunter Mining Dialogue are proud to jointly present an exciting two-part event for Muswellbrook businesses.
Hear from various mining companies in the region as they present an update on their operations, procurement opportunities and economic contributions to the region.
A networking event will follow, providing an opportunity for interested suppliers to 'meet the buyers' and connect with procurement representatives from various local mining companies.
This event is ideal for businesses looking to commence engagement with the mining sector and learn how to best equip themselves for a successful tendering experience.
Register:
Please register your interest in attending one or both of these sessions, plus any dietary requirements at info@muswellbrookchamber.com.au
Tickets:
Session One: Members: $33.00 (incl GST) Non Members: $38.50 (incl GST)
Session Two: Free to attend
Details:
SESSION ONE: 7:00 – 8:45 AM (BREAKFAST)
Mining Industry Operational and Economic Updates
Various local mining companies (incl. Bengalla Mining Company, BHP, C-Res & Local Buying Program, Glencore, MACH Energy Mount Pleasant Operation, Malabar Resources and Thiess)
SESSION TWO: 9:00 – 11:00 AM (FREE TO ATTEND)
'Meet the Buyers' – Procurement Networking Event
A networking opportunity for suppliers featuring local mining companies
Flyer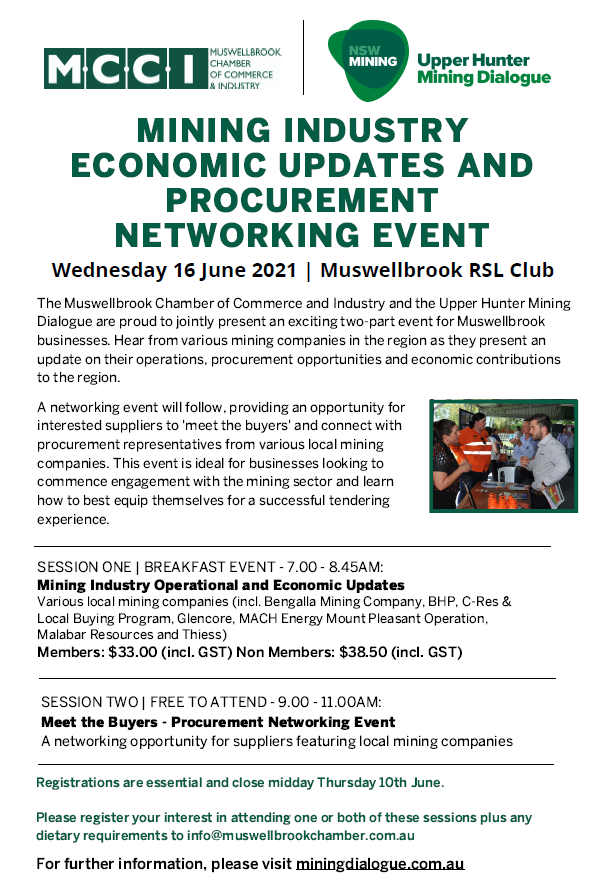 Please contact info@miningdialogue.com.au if you have any questions.