The Upper Hunter Mining Dialogue held our 2022 Community Forum event at the Muswellbrook RSL Club on Wednesday 16 November 2022.
The Community Forum is a valuable opportunity for a range of stakeholders to come together to discuss key issues in the Upper Hunter community and how these might be addressed, plan for the future of the region, and hear more about the latest Dialogue projects and activities.
The 2022 Community Forum's theme was 'PLANNING FOR THE FUTURE', and will be focused on the evolving economy of the Upper Hunter region, particularly economic diversification and future opportunities for the region.
2022 COMMUNITY FORUM REPORT
A report of the 2022 Community Forum has been published to provide a summary of the Forum presentations, as well as the attendee comments from the afternoon feedback and discussion session.
PRESENTATIONS
Presentations from the 2022 Community Forum will be made available shortly where possible.
FORUM PROGRAM
The 2022 Forum Program is included below for reference.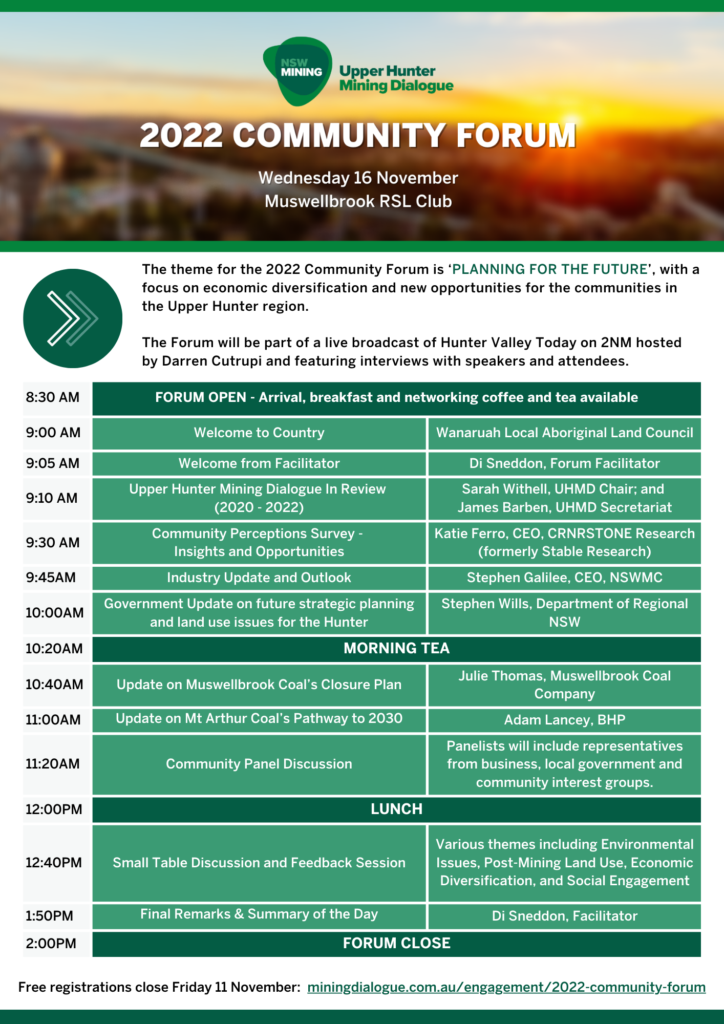 2022 COMMUNITY FORUM PRESENTERS:
DI SNEDDON | Community Forum Facilitator 2022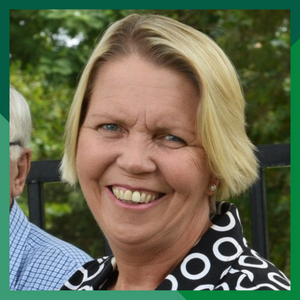 Di Sneddon is a passionate advocate for the Upper Hunter community, and is the Editor of the Hunter River Times, a proudly independent paper that aims to connect Singleton, Muswellbrook, Scone and surrounding communities of the Upper Hunter.
Di has contributed to the Upper Hunter Mining Dialogue since its establishment in 2011, and currently participates as a community representative on the Dialogue's Joint Advisory Steering Committee. Di's involvement provides a connection between residents across the region and the mining industry, and an opportunity to voice concerns on key local issues.
Di is excited to return once again as the Facilitator for the 2022 Community Forum, bringing considerable experience to the role. Di looks forward to engaging in discussions that focus on ensuring the Upper Hunter remains a prosperous and vibrant region for current and future generations.
ADAM LANCEY | Vice President, New South Wales (NSW) Energy Coal (BHP)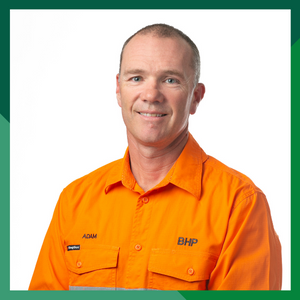 Adam Lancey has over 20 years of experience in the mining industry, having held roles in Finance, Business Improvement, Operations and Logistics.
In April 2022 Adam was appointed to Vice President New South Wales (NSW) Energy Coal, responsible for BHP's NSW thermal coal asset from pit to port – the largest in NSW. Adam lives in the Hunter with his young family – wife Kristen and two daughters, Maddy and Zali.
Adam is currently leading the Mt Arthur Coal pathway to closure in 2030 to ensure it is equitable and responsible for all stakeholders. Adam will be sharing his thoughts on how BHP's purpose and approach to Social Value will guide the company's planning for closure and the site's life beyond mining.
Katie Ferro | CEO, CRNRSTONE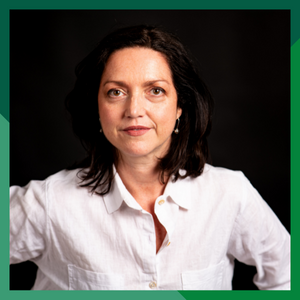 Katie Ferro has served as CEO of CRNRSTONE Australia since March 2020, and has more than 20 years experience in senior management roles in data, analytics and research.
Katie has a track record of delivering high-quality, dependable insights for her clients to make confident decisions. Prior to research, Katie worked across multiple industrial and FMCG companies in client facing senior roles.
Katie oversaw the research and insights creation for the third Upper Hunter Mining Dialogue 2021 Perceptions Survey, a semi-regular research activity undertaken by the Dialogue within the community and involved parties to assess current perceptions of mining within the community and the impact of the Dialogue. Katie will share key insights and opportunities arising from this latest research.
Stephen Wills| Executive Director, Regional Programs, Department of Regional NSW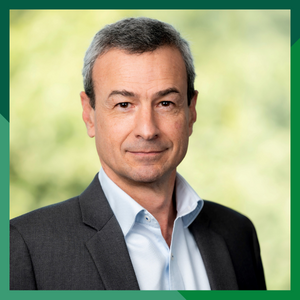 Stephen is the Executive Director, Regional Programs in the Department of Regional NSW. Through the Regional Programs team Stephen leads the planning, management and delivery of the $3 billion Regional Growth Fund which grows regional economies and improves the quality of life for regional communities.
Before joining Regional Development & Programs, Stephen worked in a number of executive roles with the NSW Government including Mining, Exploration and Geoscience, Department of Premier Cabinet, Crown Lands and as the CEO of the Lord Howe Island Board. Stephen also has extensive experience in the private sector leading the delivery of major infrastructure and building projects.
Stephen will provide an overview of the various planning projects underway that are focused on the Upper Hunter, including the Draft Hunter Regional Plan and the Upper Hunter Economic Diversification Action Plan.
JULIE THOMAS | Environmental Superintendent, Muswellbrook Coal Company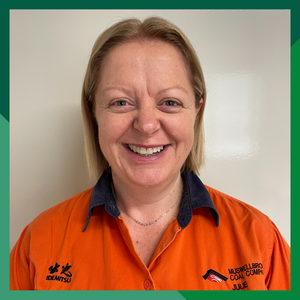 Julie Thomas is a Singleton-born Hunter Valley local and grew up on a farm just outside of Singleton. After completing a Bachelor of Science degree, as well as further studies in Mineral Resources, Natural Resources, and Environmental Law, Julie commenced her early career at HLA-Envirosciences before moving onto Wambo Coal, Northparkes Mine and Moolarben Coal.
Julie returned to the Hunter Valley to work with Muswellbrook Coal where she has worked for the last eight years, and is currently the Environmental Superintendent at Muswellbrook Coal.
During her time at Muswellbrook Coal, Julie obtained an approval for continued mining operations that added an extra four years to the mine life. With mining due to finish in 2022, Julie's focus is now on mine closure, which includes rehabilitation of the site and other activities required to obtain relinquishment of the mining leases.
Julie will provide more detail on what these mine closure activities are and the current thinking about the future plans for the Muswellbrook Coal site.
STEPHEN GALILEE | CEO, NSW Minerals Council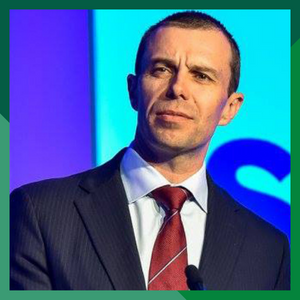 Prior to joining the Minerals Council, Stephen spent over 15 years as a policy advisor and chief of staff in politics and government in portfolios including regional development, employment services, small business, industry, tourism, and resources.
During this time he also served as chief of staff to former NSW Treasurer Mike Baird and as an adviser to former Prime Minister John Howard, and worked on multiple election campaigns at state and federal level.
His private sector experience includes time in small business, family business, and as a consultant to major corporations in the construction, engineering and infrastructure sectors.

Stephen has an Honours degree in Economics from Sydney University and is a graduate of the Australian Institute of Company Directors.

Stephen regularly travels to the Hunter in his role as Minerals Council CEO, and to visit his parents at their rural property at Payne's Crossing.
Stephen will present an update on the local mining industry and share information about the outlook of mining in the Upper Hunter region.