The Dialogue is back on the road again and ready to continue working with our various stakeholders to help address the local community's priorities and work towards developing and implementing solutions.
After a disruptive 2020, the Dialogue's Joint Working Groups and Steering Committees have reconvened in early 2021 to discuss recent projects delivered over the past year, and plan ahead for the Dialogue's future projects and priorities.
The Dialogue has also been fortunate to resume our engagement activities with the community and plan for some upcoming exciting events to be held in 2021 with both the business community and our local community stakeholders.
The May 2021 edition of 'The Dialogue' newsletter provides a roundup of all our recent activities and projects, including:
SCHOOL MINE TOURS BACK ON THE ROAD AGAIN – The Dialogue's School Mine Tours Program has kicked off for our biggest year yet in 2021, giving over 1000 local students from 22 schools across the region an opportunity to participate in one of 31 scheduled tours across 13 mine sites.
GROWING OUR BUSINESS: EVENTS BRING SUPPLIERS AND INDUSTRY TOGETHER – The Dialogue is bringing local businesses and the mining industry together with two procurement networking events in June and August.
ONLINE INFORMATION HUB HELPS BUSINESS WITH PROCUREMENT PROCESS – The Dialogue is also helping suppliers to better understand mining procurement processes and how to prepare for tendering opportunities through its online Procurement Information Hub.
FACE TO FACE WITH COMMUNITY: DIALOGUE ON DISPLAY AT HUNTER EVENTS – The Dialogue is back having a face to face "dialogue" with its community, and recently launched its 2021 community events calendar with a display at the Upper Hunter Show at Muswellbrook in March, followed by a busy three days consulting with the community at the Tocal Field Days in May.
FORUM FOR EVERYONE – The Dialogue welcomes community attendance at our upcoming 2021 Forum to be held in Muswellbrook in November, and out first major Forum event since 2019.
JOURNEY THROUGH LIFECYCLE: VIDEO TRACKS STAGES OF OPEN CUT MINING – The Dialogue's "The Lifecycle of a Mine" video, used in our community engagement activities, is now available on YouTube, having been recently reformatted to provide a virtual reality experience that is more accessible to our stakeholders.
REHAB STILL MAJOR FOCUS – The Dialogue's community surveys continue to show rehabilitation is a priority area of interest for our local stakeholders. The Dialogue continues to work on projects that highlight the progressive rehabilitation being undertaken and efforts from industry and the regulator to showcase quality examples of rehabilitation.
DO YOU WANT TO HELP MAKE THE UPPER HUNTER A BETTER PLACE FOR ALL TO LIVE? – The Dialogue is seeking interested community members to join the Dialogue's Joint Working Group and provide valuable input into helping the Dialogue identify concerns and work together to develop and implement solutions. If this interests you, please contact us by email info@miningdialogue.com.au for more information.

Please click the following link or the image below to access the digital copy of the May 2021 edition of 'The Dialogue'.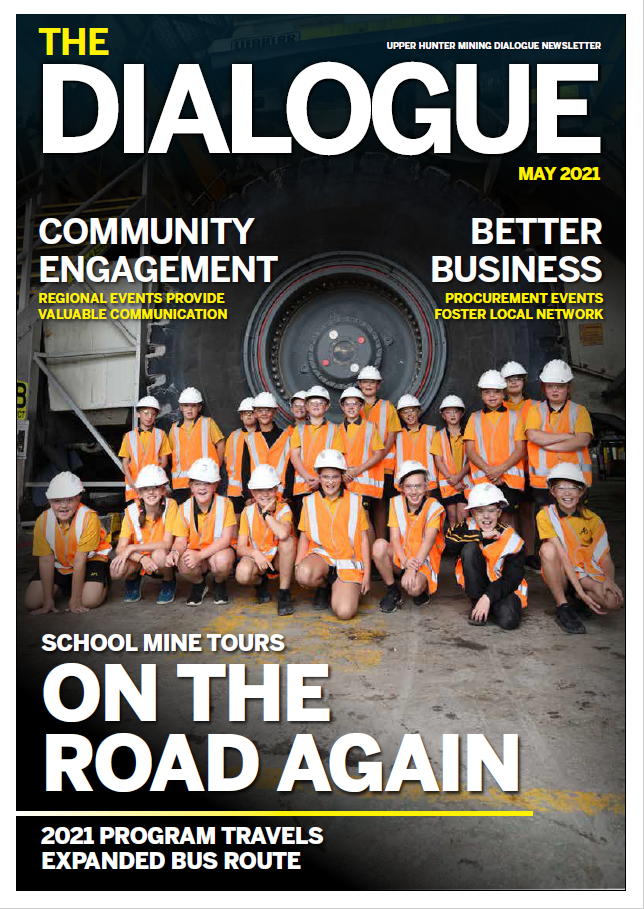 A printable A3 version of 'The Dialogue' can also be viewed here: