As we near the end of a momentous 2020, it is timely to reflect on the Dialogue's accomplishments in this most difficult of years.
Despite the challenges and impacts that COVID-19 has had on the Dialogue's community events and school tour activities scheduled throughout 2020, we have been fortunate to continue our engagement with stakeholders through virtual meetings and keep our focus on delivering important projects for the community.
The Dialogue has completed an analysis of Upper Hunter air quality data which will improve community understanding about how the air quality in the Upper Hunter compares to other NSW locations. We have also recently finalised our annual reporting projects that track both progressive rehabilitation of mined land, and the use of Hunter River water, with the results now available on the Dialogue's website.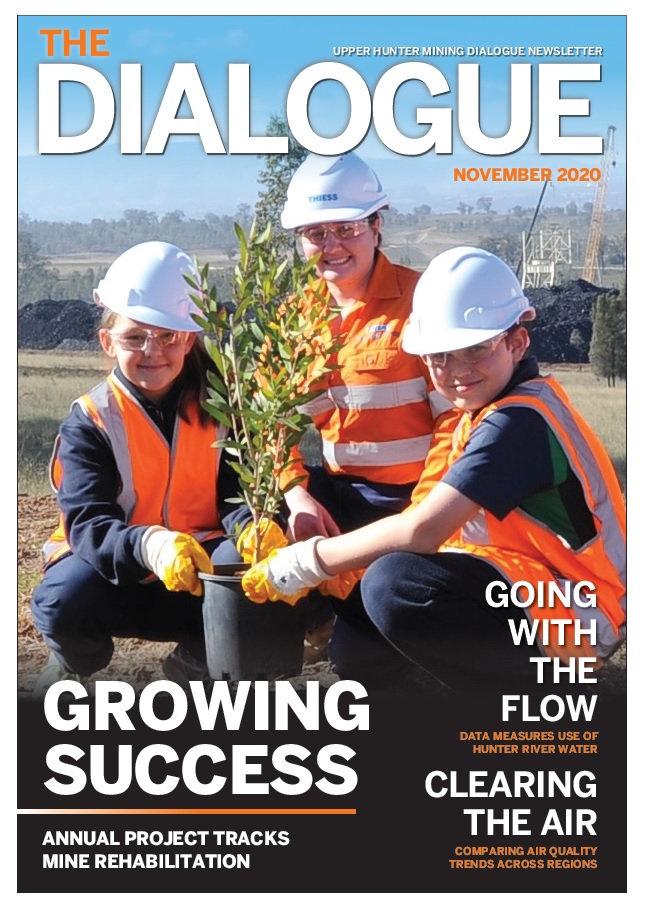 The November 2020 edition of 'The Dialogue' newsletter provides a roundup of all our recent activities and projects, including:
DIALOGUE PLANS A BUSY 2021 – The Dialogue has had a busy 2020 despite Covid-19 restrictions. As restrictions relax, the Dialogue is planning a full schedule of activities in 2021.
SMALL BUSINESS MINISTER DROPS IN TO DIALOGUE – The Dialogue was fortunate to meet with the NSW Minister for Finance and Small Business, Damien Tudehope, as part of a tour of the Upper Hunter in September.
GROWING SUCCESS: PROJECT TRACKS REHABILITATION OF MINED LAND – Rehabilitation is a growing success story with 13,470 hectares of mined land in the Upper Hunter now rehabilitated, according to figures recently released by the Upper Hunter Mining Dialogue.
INCREASING AWARENESS OF MINE REHABILITATION – One of the Dialogue's key roles is to improve awareness of mine rehabilitation practices in the Hunter and to highlight potential uses for mine sites once mining has finished.
VALE – JIM MORGAN – The Dialogue pays tribute to a long-serving member of the Dialogue's Joint Advisory Steering Committee and various Working Groups.
MINING GOES WITH THE FLOW DATA MEASURES HUNTER RIVER WATER USE – The Dialogue has released its annual data tracking the mining industry's water use for 2019.
TESTING GIVES THE ALL CLEAR – A follow up study to an earlier Dialogue water quality project has found that the Hunter River Salinity Trading Scheme is effectively managing the potential for contaminated water to enter the river.
CLEARING THE AIR: STUDY TRACKS CHANGES – Trends in air quality levels in the Upper Hunter have mirrored changes in air quality in other NSW regions over the past seven years, according to a new Dialogue study.
Please click the following link or the image below to access the digitial copy of the November 2020 edition of 'The Dialogue'.
A printable A3 version of 'The Dialogue' can also be viewed here: