The Upper Hunter Mining Dialogue is gearing up for its biggest and most important event in three years – the 2022 Community Forum on November 16.
Our Community Forum is important because it brings together our partners from the community, mining industry and government for a day of collaboration aimed at making the Upper Hunter a better place for all to live.
In addition to planning the Community Forum, the Dialogue has been busy engaging with community members across the Hunter at local events, as well as progressing a number of environmental and economic projects.
The October 2022 edition of 'The Dialogue' newsletter provides a roundup of all our recent activities and projects, including:
PLANNING FOR THE FUTURE – Community, industry and government representatives will come together in a day of collaboration and planning for the Upper Hunter's future at the Dialogue's Community Forum on November 16.
REHABILITATION GROWS AHEAD – For the first time since the Dialogue has been keeping records, rehabilitation by Upper Hunter mining companies has out-stripped the amount of land newly disturbed by mining in a year.
HEADING OUT TO PASTURE – The Dialogue is heading out to pasture with a planned field trip aimed at sharing information and research to create the best possible pasture from previously mined land.
DIALOGUE GOES ON SHOW – The Dialogue continues to be on show and engaging with the Upper Hunter community at local events.
FAREWELL TO A FOUNDER – The Upper Hunter Mining Dialogue recently farewelled one of its founding members with the departure of Mark Ihlein. Mr Ihlein reflects on the Dialogue's beginnings, its achievements and looks forward to its future.
TOURS PARKED UP – After a rain and Covid-19 affected 2022 journey, the School Mine Tours Program has been parked up for the rest of the year before resuming its tours in 2023. During the year, some 600 Upper Hunter students and their teachers visited a working mine.
REVIEW FINDS OPPORTUNITIES – Planning for the future, rehabilitation and air quality will be major, ongoing points of focus for the Dialogue following a review of opportunities highlighted in the findings of the Dialogue's Community Perceptions Survey.
Please click the following link or the image below to access the digital copy of the October 2022 edition of 'The Dialogue'.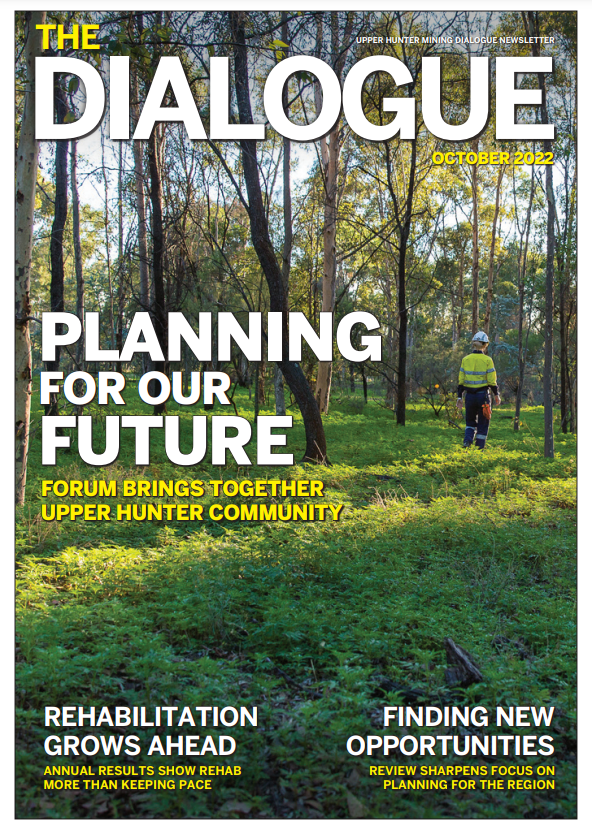 A printable A3 version of 'The Dialogue' can also be viewed below:
Note: set paper size to A3, set to print on both sides of paper, and flip on short edge to create newsletter.